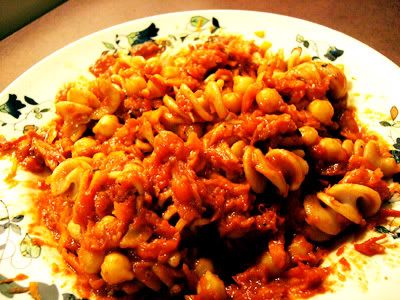 I didn't realize until I made this that it absolutely, undeniably DNA positively needed cheese, and hence have listed it in the recipe. You will regret it if you don't do the same.
Red Pepper Sauce with Chickpeas and Pasta
1 Red Pepper
2 - 4 Garlic Cloves
Olive Oil
1/4 cup Tomato Paste
1/4 cup Water or Milk
2 Carrots
1/3 cup Whole Grain Pasta
1/2 cup Chickpeas
1/4 cup Mozzarella Cheese (grated)
Salt, Pepper & Seasonings to Taste
Serves 1.
1. Preheat oven to 450 Degrees.
2. Cut bell pepper in half, remove the seeds and pith and wash. Skin the garlic cloves. Lightly coat pepper and garlic with olive oil and place in a glass baking dish, with pepper halves skin up. If you choose, you can grind a bit of pepper over top.
3. Roast pepper and garlic in the oven for 20 minutes.
4. Meanwhile, peel and grate the carrots, grate the cheese, and set aside. Boil a pot of water for the pasta and cook your choice of pasta according to its instructions. Once cooked, drain and rinse, set aside.
5. Once the pepper and garlic is out of the oven, cut the pepper into medium - small sized cubes (the pepper will be extremely soft, so all you'll need is a fork to cut it). Transfer the pepper and garlic to a small pot and add the tomato paste and milk. Using a hand-blender, blend the ingredients to a smooth consistency (you can also do this in an actual blender if you have one). Add your choice of spices - I used salt, ground pepper, garlic powder and a bit of chili powder, but you can use whatever works for you. Cook the sauce over low - medium heat until it starts to bubble, stirring occassionally.
6. In the meantime, combine the pasta, grated carrot and chickpeas. Once the sauce is finished, pour over top and then add the cheese. Enjoy! (Although if you find the dish is not hot enough, you may want to nuke it in the microwave for a few seconds.)