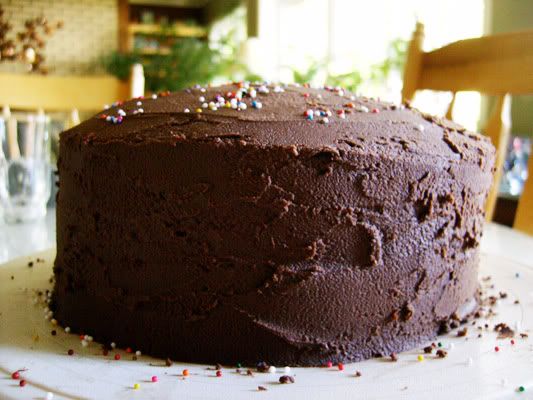 This cake was some intense chocolate crazy. Seriously, I kid you not. The avocado is undetectable, while the cake is moist and fudgy. The little bit of booze I snuck it really jazzed up the flavour, and the intensity of the dark chocolate in the icing kept it from being overpoweringly sweet, and making it more chocolatey. It was just...wow. I may have overdosed on it a little while icing the cake. And there is still some leftover, and it's in my fridge, and I need it to not be there, because when you realize you just ate about a cup of pure chocolate, sugar and butter, you feel like a piece of you has been violated, and no amount of milk can save you. And I don't want that to happen...again.
Ahem. Anyways, onto the cake!
Chocolate Avocado Cake of Awesome
(Just thought I'd get some alliteration going there for kicks. I am a dork.)
Adapted from Joy the Baker
3 cups Flour (I used whole wheat)
6 tbsp. Unsweetened Cocoa Powder
1/2 tsp. Salt
2 tsp. Baking Powder
2 tsp. Baking Soda
1/2 cup Dark Brown Sugar
1/2 cup Pure Maple Syrup
1/4 cup Vegetable Oil (I used extra virgin olive oil)
1/2 cup Avocado, well mashed (about 1 medium avocado)
1 3/4 cups Milk
2 tbsp. Strong Coffee
2 tbsp. Dooley's (you can skip this and the coffee if you like, or add a different liqueur. I'm thinking Kahlua, Bailey's and even Gran Marnier would give this cake an awesome kick.)
2 tbsp. White Vinegar
2 tsp. Vanilla Extract
Preheat oven to 350 Degrees. Grease and flour two 8 or 9-inch rounds. Set aside.
Sift together all the dry ingredients except the sugar. Set aside.
Mix the wet ingredients together in a bowl, including the mashed avocado. Mix in the maple syrup and brown sugar.
Pour the wet into the dry and mix until smooth. (After combining them together, I whisked it by hand just to ensure it was well mixed.)
Pour batter into prepared cake pans and bake 30 - 40 minutes, or until an inserted toothpick comes out clean.
Let cool for about 15 minutes before turning onto cooling racks. (Tip: If you're in a hurry to ice them, stick the cakes in the freezer on plates with waxed paper underneath to prevent them from sticking. They'll be ready to ice within the hour.)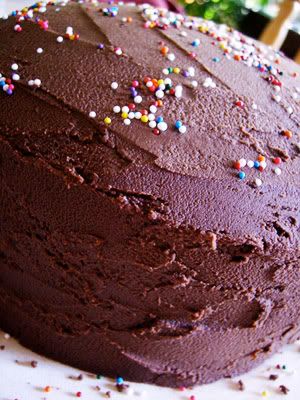 Super Intense Dark Chocolate Buttercream
2 100 g. (6 - 7 oz.) 70% Lindt Chocolate Bars, melted and cooled (or any other high quality dark chocolate you can get your hands on. Lindt was all I could find.)
1 cup Butter, softened
1/4 cup Cream or Milk (I only had skim, but it worked)
3 - 4 cups Icing Sugar
1 tsp. Vanilla Extract
Place all ingredients in a food processor and process until smooth. (I think I screwed mine up a bit and processed it too much, or I was too impatient and didn't let the chocolate cool enough. It became fudge-like in texture and not very spreadable at all. Still tasted like chocolate ecstasy though.)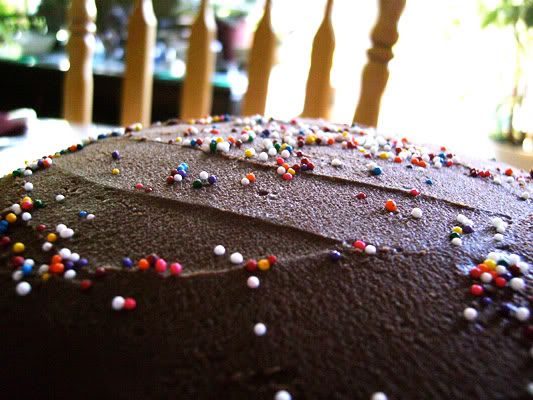 Enjoy! I played around with the ingredients a lot, and next time (oh, there will be a next time!) I plan to spice it up even more, perhaps by decreasing the milk and adding brewed espresso, and even some chili powder and ground ginger. Mmmm, cake noms. The possibilities are endless!